Law of Attraction Positive Subliminal Messages for Increased Manifestation Power + Binaural Beats (MP3)
Description
This Meditation is also included with my 'Ultimate Breakthrough Bundle' Meditation Pack. Click Here to Learn More about what's included.
Law Of Attraction Subliminal Messages for Increased Manifestation Power (With Binaural Beats) A large portion of our brain function occurs on a subconscious level. To use the law of attraction deliberately to effect changes in a very distinct way, you must align your mental and emotional forces with your intentions. This is where subliminal messaging can make a great impact on our manifestation efforts!

This 30 Minute MP3 includes sub-audio messaging to transform your subconscious beliefs into ones that align with your ability to manifest what you want from life! It also includes a base solfeggio frequency of 396Hz and uses a blend of alpha waves to gently cleanse your mind of negative thoughts. It starts with a binaural of 8 Hz and gradually ascends to 12 Hz, giving the brain time to adjust level by level to the ascension.

These soothing alpha waves help your mind relax so it can absorb the subliminal messages easily. They also assist in stress relief and stimulate visuals of potential and creativity while also keeping you alert enough to continue with your day. When used on a regular basis, you will achieve a more positive outlook on life and see a remarkable change in your own personal magnetism and your ability to believe in your power to manifest a life you choose. It assists in aligning the conscious mind with the subconscious mind, connecting the two hemispheres of the brain to work in unison, remapping your subconscious mind with new beliefs, releasing endorphins that make you feel good and increasing positive beliefs about the self and the ability to manifest as the powerful creator you are! (If you have an Apple product, such as an iPhone, please read the download instructions given below.)
This MP3 is also available in video form where all of the above is combined with sub-visual subliminal messages for a more powerful experience that impresses the mind even further. If you would like to purchase a downloadable MP4 (video), you can do so by clicking the thumbnail below.

Use this video to tap into the power of your subconscious mind and manifest faster! Below are a few of the subliminals given in the video and audio:
I am a powerful creator
I have the power to attract whatever I wish into my life
I now believe in my ability to achieve my goals.
My mind is open to new opportunities that align with the life I choose to live.
I firmly believe in my ability to attract success in all ways.
I am totally committed to achieving my goals.
I attract the things I desire into my life effortlessly.
My mind brings my desires into existence.
I am open and ready to receive all of the good things life has to offer me.
My positive belief in myself is transforming my life.
I am filled with limitless potential.
I turn my dreams into my reality each and every day.
The power to manifest a life I love is within me.
My desires are manifested as my reality.
I believe in my ability to create the life I choose.
My manifestation power grows every day.
I easily manifest the things I desire most.
My mind remains positive and I achieve positive results.
Click this thumbnail to purchase the video form of this MP3.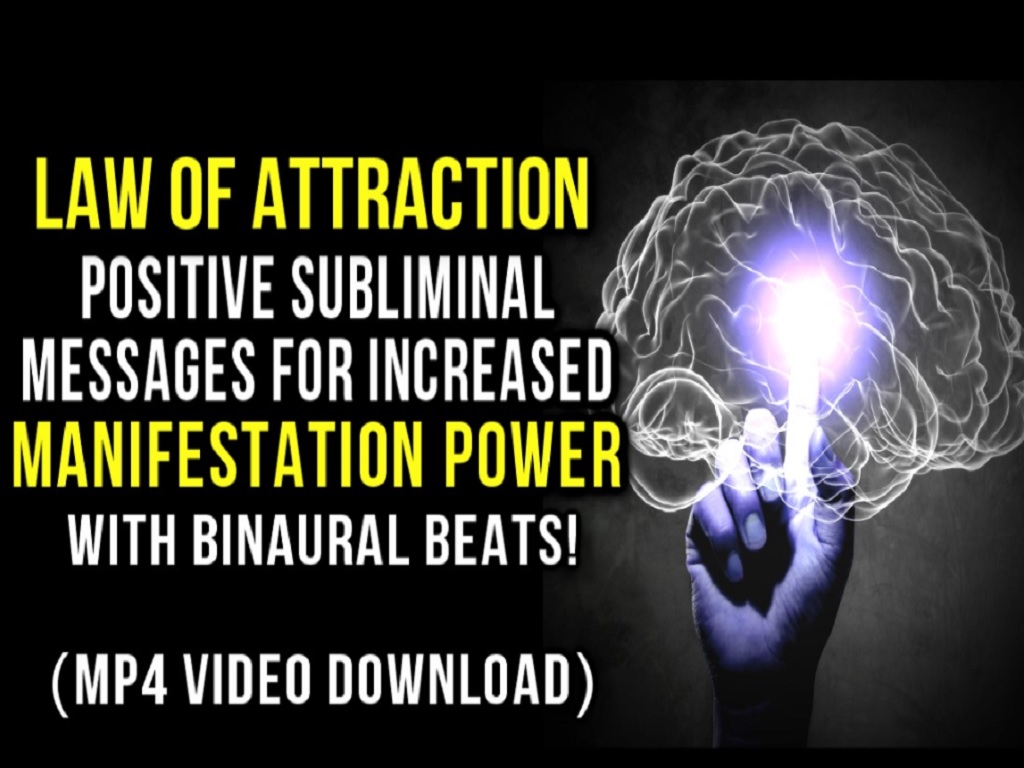 All of our meditations have a bit rate of 320kbps.

Disclaimer – Please read:

If you meet any of the following conditions, whether knowingly or not, you should not use this product without first consulting with a physician: Epileptics, Pregnant women, Individuals prone to seizures, Individuals under the influence of medication or drugs.

Our music is provided not to be used by anyone while under the influence of alcohol or any other mood altering substances, whether they are legal or illegal. We recommend drinking a glass of water before enjoying each session as tests have shown it can help prevent any discomfort.

Keep in mind that although our music has been designed to contribute to your general wellness, it is not meant to replace any medical or psychological treatment or consultation. If you have a serious medical condition, please consult with your medical doctor immediately. Do not use while driving or operating machinery!

Content copyrighted by Your Youniverse and respective owners.
By purchasing this product, you agree to our terms of service:
"All rights reserved. No part of this audio may be sold, reproduced, distributed or transmitted in any form or by any means, including recording or other electronic or mechanical methods without the prior written permission of the creators as permitted by copyright law."

*If you have an IPhone, IPad or other Apple product, you may need to have a cloud app or download app on your device to store MP3's.

Or, follow these directions from Apple:

iTunes –Sync MP3 Files to Your iPhone -

To transfer MP3 from PC to iPhone, import MP3 files to iTunes library by choosing "File" "Add File to Library".
Plug your iPhone into your computer with USB cable and run iTunes.
Locate and click on your device.
Click "Music" from "Settings" tab.
Choose "Sync Music" to sync the entire music library or a certain playlist and finalize the music transfer by hitting on "Apply" button.